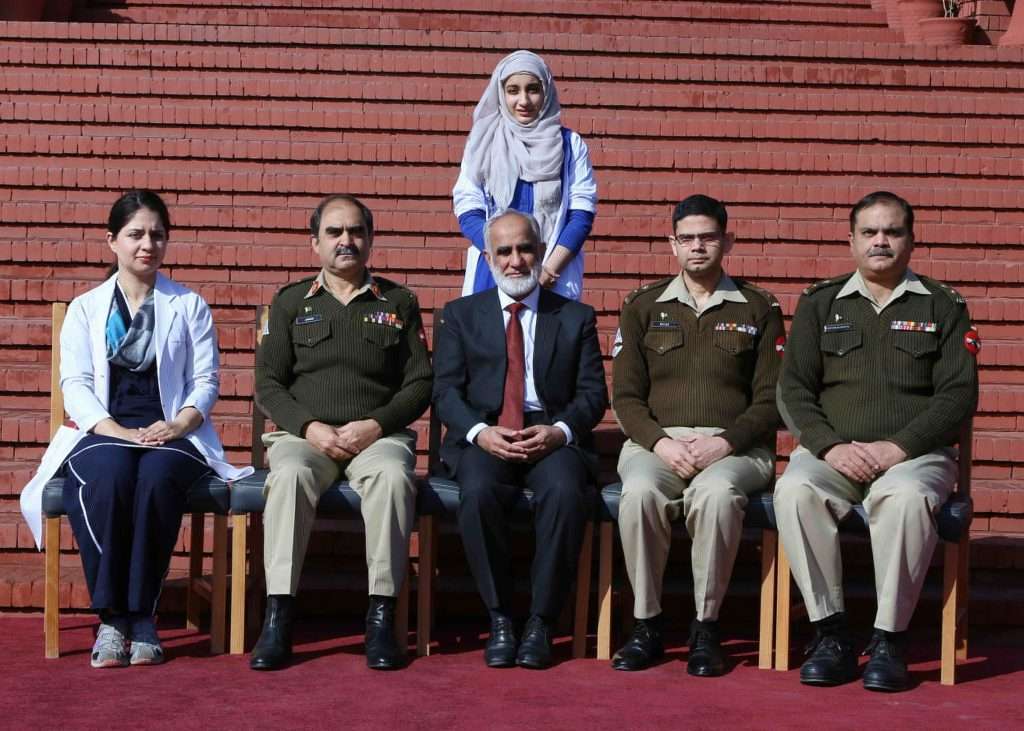 Sitting L – R:-  Dr. Sobia Usman, Brig Junaid Afsar Khan, Brig Muhammad Manzoor, Lt Col Khizar Niazi, Lt Col Usman Durrani
Standing L – R:- Dr. Sana
Introduction
CMH Medical College and Institute of Dentistry were established in 2006 & 2008 respectively. Institute of Dentistry is an integral part of CMH Lahore Medical College, Lahore. It is situated in the serene location of Lahore Cantonment. It covers a total land of 12 acres. It has a purpose-built magnanimous campus that depicts utmost professionalism. It is a complete blend of intellectual architecture, accessibility, and comfort.
Academic Activities:
Conducted clinical meeting of Ophthalmology Society of Pakistan, Lahore.
chapter IN CMH Lahore in May 2018.
Started optical Coherence Tonography (OCT) and Cornedl Topography in CMH Lahore in 2018.
Our resident Dr. Sobia Usman Shah passed FCPS II optholomology in first attempt in August 2018.
We diagnosed a rare case of unilateral Best Vitelliform Macular Dystrophy and Dr. Sobia Usman Shah presented this case in 37th Lahore Ophthalmology  conference held from 7th -9th December 2018 for which she was given best presentation certificate.
Lt. Col. Khizar Niazi attended Annual Meeting of European Society of cataract and Refractive Surgeons Vienna, Austria from 23rd-24th September 2018.