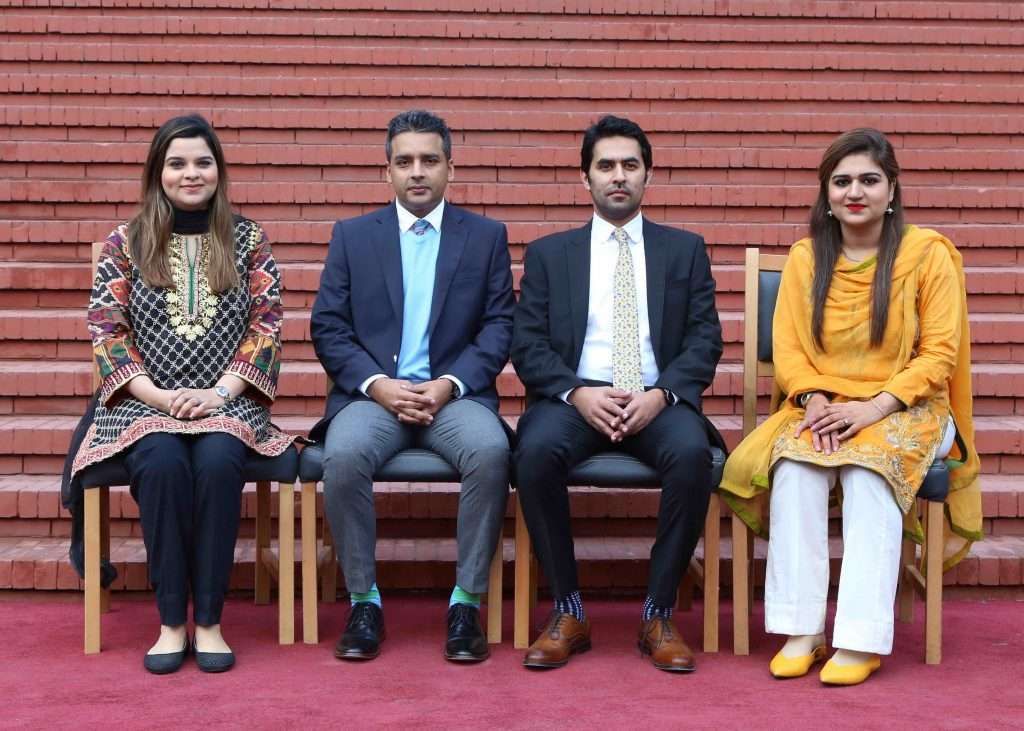 Sitting L – R:- Dr. Khaula Ashfaq, Dr. Salman Aziz, Dr. Muhammad Saad Ullah, Dr. Ayesha Tariq
Introduction
Science of dental materials deals with the natural oral tissues (Dentin, Enamel, cementum, bone, and soft tissues) and biocompatible synthetic biomaterials (metal alloys, ceramics, resin composites, dental cements, dental silver amalgam etc.) which are used to restore decayed, fractured, damaged and missing teeth. The fundamental principles of science of dental materials includes various scientific fields like physics, chemistry, biology, and engineering. The aim of science of dental materials curriculum is students should be able to know and understand; The chemistry of dental biomaterials used in clinical and community setups. Handling and manipulation of various dental materials. Chemical and biological interaction with human tissues. Clinical applications. Safety and biocompatibility of dental biomaterials. Better understanding of dental biomaterials to deliver optimal clinical services for community. Throughout this course, the curriculum is designed in such a way that the knowledge and aptitude in students is developed by conducting hands-on sessions, tutorials, and small group discussions to develop a better understanding of dental materials used in preventive, restorative, prosthetic and various other fields of dentistry. The rationale of this in-depth knowledge and understanding among students is necessary for optimal selection of dental biomaterials to excel in the field of dentistry and to predict the clinical performance, behavior and causes of failure of direct and indirect restorations in clinical practice and community services. In addition to lectures and practical sessions, small group discussions, tutorials and presentations are used to develop the sense of competence in students. Students are encouraged to take part in research, oral and poster competitions both at national and international level under the supervision of competent faculty members to have better opportunities to pursue postgraduate qualifications in local and foreign universities. The competencies acquired by the students are assessed by means of objective structured practical examination (OSPE), written examination, oral examination, and internal evaluations.
Academic Activities:
The department of science of dental materials has been actively involved in
teaching and facilitating the undergraduate students during their 2nd year of studies.  Subject is taught in lectures, tutorials and practical sessions in which students learn the basic properties, chemistry and clinical applications of dental biomaterials.
Students are also familiarized with latest research in dental biomaterials.
Conduction of Workshop/Seminars by the Department
Dr Muhammad Saad Ullah and Dr. Salman Aziz conducted a workshop on "Pursuit of International Recognition. Where to Start from? "at 5th Annual Conference of Pakistan Association for Dental Research held at IOD, CMH Lahore Medical College, Oct. 2018.
Participation in Conference/Workshops
Oral presentation by Dr. Salman Aziz at 96th General Session of the International Association for Dental Research, held in London, U K from 25th -28 th July 2018.
Dr. Salman Aziz, as the General Secretary of Pakistan Association for Dental
Research (PADR) conducted the 5th Annual Conference of Pakistan Association for Dental Research at IOD, CMH Lahore Medical College, Lahore. 12th-14th October
2018.